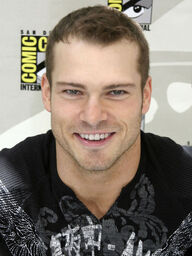 Calvin Murtaugh appears in the second Cheaper by the Dozen film as the 21 year old son of Jimmy Murtaugh and folly. His father mentions that he studies particle physics at Yale University. He is first seen taking his step younger brother Elliot and Sarah Baker knee-boarding, he meets Tom and says "Hi, I'm Calvin. I just got back from Yale." Tom Baker decides to join them, but this made Sarah angry, who then told him to go first. He does so and Calvin inserts his headphones and steered the boat quite easily. After a little while the two in the backseat discover that Tom had difficulty managing the knee-board. Calvin takes the two Bakers home after that incident.
He is also seen as a part of Team Murtaugh in Labor Day Cup. He competes with the Bakers and helps them with Nora when she goes to the hospital to deliver her baby.
He is only 12 years younger than his step-mom.
Calvin Murtaugh is portrayed by Shawn Roberts.
Community content is available under
CC-BY-SA
unless otherwise noted.